Christian Louboutin Spike Sock Woman 30 Black/Black Mat Neoprene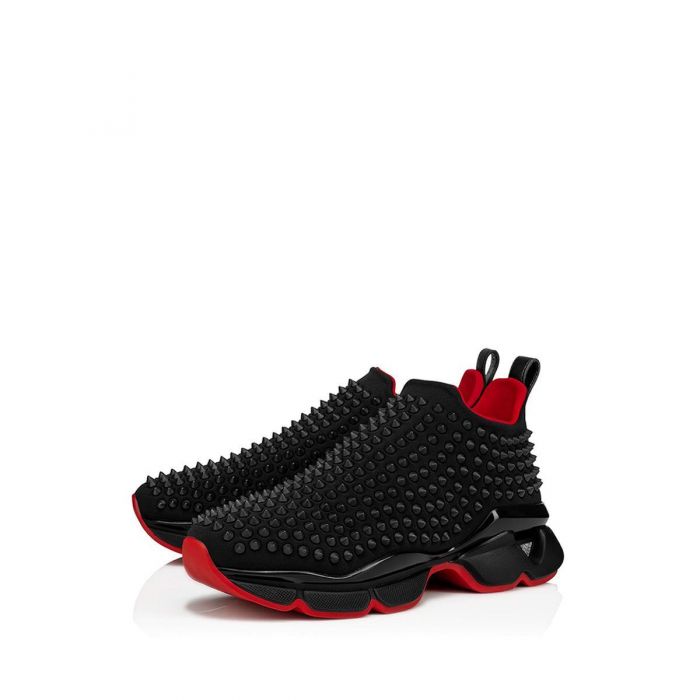 Size Guide
Christian Louboutin Shoes
Size guide for women's shoes
| | | | | | |
| --- | --- | --- | --- | --- | --- |
| EU | US | UK | JP | (cm) | (in) |
| 34 | 4 | 1 | 21.0 | 21.5 | 8.46 |
| 35 | 5 | 2 | 22.0 | 22.5 | 8.86 |
| 36 | 6 | 3 | 23.0 | 23.0 | 9.06 |
| 37 | 7 | 4 | 24.0 | 23.5 | 9.25 |
| 38 | 8 | 5 | 25.0 | 24.5 | 9.65 |
| 39 | 9 | 6 | 26.0 | 25.0 | 9.84 |
| 40 | 10 | 7 | 27.0 | 25.5 | 10.04 |
| 41 | 11 | 8 | 28.0 | 26.5 | 10.43 |
| 42 | 12 | 9 | 29.0 | 27.5 | 10.83 |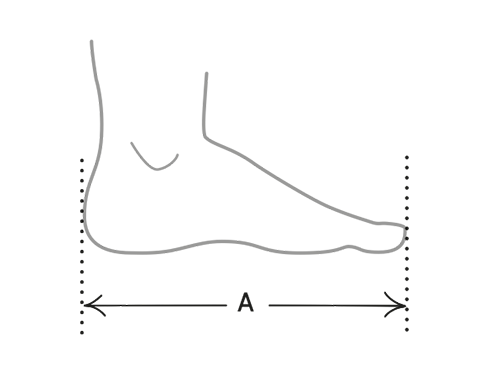 Place your foot on top of a sheet of paper with your heel next to the wall and mark the point of the farthest most toe, then measure the distance from the wall. Repeat this procedure for the other foot and compare the measurements against our table.
Christian Louboutin Spike Sock Woman 30 Black/Black Mat Neoprene
Regular Price
$1,295.00
As low as
$1,036.00
DELIVERY DETAILS
Shipping destinations, costs and delivery times
An estimated shipping time for your order will be available to view on the checkout page before you confirm payment. Estimated delivery times are subject to the acceptance of your order and will be calculated from the date on which your order is placed, unless otherwise specified. Different terms and conditions may apply for different shipping destinations. Please note: We are only able to deliver to the shipping address provided on your order. Please allow additional time for personalised items. An estimated delivery time for your order will be available to view in checkout.
Where can we deliver the package to?
We can ship to most countries in the world. Countries not shipped to include: South Sudan, Palestine.
What shipping methods are offered, and what are the respective shipping times?
We have DHL, UPS, TNT, FedEx and so on. The standard shipping can reach the majority of countries, while the priority line can reach most of the main countries.
About customs tax
Taxes may apply for imported goods/services and is regulated by the country law. We are not responsible for any tax invoice charged on its products. Shipping rates are estimates and may depend on different policies and tax rates applied per country. Please contact local customs for clarity and information.
Free Returns
Enjoy free returns on your order. Read more details, please click Returns Policy.
Detailed Features
Style: 1190555B026


Color: Black/Black
Material: Mat Neoprene
Heelheight: 30mm
Collection: 19S
The Spike Sock is the Maison's reworked version of the iconic running sneaker. This all-over black version features an upper with technical neoprene fabric, highlighted with a black matte leather trim. Punk-inspired tone-on-tone spikes adorn the entire sneaker, which incorporates a sock liner in the Maison's signature red. Also framed with red, the black tracked platform sole adds an edgy twist.
CAN WE HELP?
Telephone
Innova Global offers worldwide assistance 10 hours a day, six days a week from Monday to Saturday: 00:30AM - 10:30AM (GMT)


Please note, we may monitor or record your communications for training and quality control purposes.
+852 4653 1971
Email Us
Add to Wish List
Product Details
Contact Us